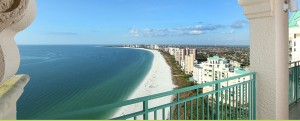 Marco Island is as far southwest as you can go in Florida without plunking into the Everglades. It's a sunny lush beautiful island with a massive network of canals and a laid back vibe The Ten Thousand Islands, small mangrove islands full of all types of native (and a few invasive) species, lie close to the sugar sandy beaches of Marco Island.
Marco itself is clean and quiet, and has breathtaking beaches with sand that feels like flour under your feet. Having said that we should also mention that there are a lot of small shells so footwear to protect your – well your foots – is recommended! Shelling on Marco Island is some of the best you will find all over the world.  Marco Island is a good place for people who like to relax, swim, enjoy nature and go boating or fishing, dining and shopping. So explore and enjoy the stunning sunny Island.
The local joke is that "Marco midnight" is at 9:00 p.m. That's a ridiculous joke though – it's more like 9:15.
The easiest way to get to Marco Island is to fly into Fort Myers (RSW) and don't stop – rent a car and drive straight to Marco Island (about 45 minutes). Fort Myers provides a lot of hysterical Florida dumb criminal news and is the Spring training home of the Boston Red Sox. But, unless one or both of things intrigues you, skip it. (And if you want to see the Red Sox in Spring Training you can stay on Marco and be at JetBlue Park in less than an hour.)
Before you rent a car from the airport at Fort Myers spend some time looking for a good deal because prices can vary a lot. You will probably want a car anyway when you're on the island but, if you don't, there are a couple of car services that can get you there from RSW. Don't plan to take a cab because it's highly unlikely that there will be any. You might be able to get Lyft or Uber at least one way.
You can bicycle your way fairly easily around the island when you get here or take a local taxi that has a flat fee of $6 no matter where you want to go on the island. (If you bicycle, please wear a helmet, there are a lot of car and bike collisions and the cyclists never win.) There's also a Hertz office at the Marriott on the island and an Enterprise office that sometimes has good short-term rental deals.
So in short come to sunny Marco Island and enjoy all this Island paradise has to offer.  Then call the Walter Team to look at properties for sale.  The Walter Team will help you find the perfect place on the island to call home.  It is our honor to help you in our Sunny Island Paradise.  Call us today Ph# 239-821-0994.