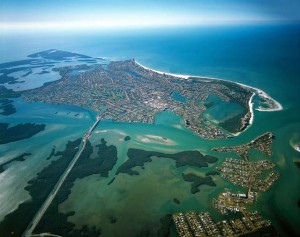 On the southern most-tip of Florida's West Coast, overlooking the Gulf of Mexico, sits the majestic and pristine sub-tropical Marco Island.
Gateway to the awesome land of Ten Thousand Islands, Marco Island is about 4 miles wide, 6 miles long, and a mere 90 miles west of Miami and 157 miles south of Tampa.
History informs us that probably around 4000 BC the Calusa Indians, who may have been the descendants of the Mayans, inhabited the island. These Native People had built large mounds using millions of shells that offered them protection from hurricanes. The mounds were also used for religious temples and burial sites.
The Calusa were crafty and intelligent woodworkers, who constructed canoes, beams and planks for their houses, docks and piers. Due to disease brought to the island by the Spanish explorers, the Calusa were wiped out by the mid 1700s, later replaced by the Seminole. Until after the Civil War, there was little population occupying southwest Florida.
In 1870, W.T. Collier brought his wife and nine children to Marco Island. His son, William D. "Captain Bill" Collier, opened a 20-room hotel in 1896 that is today known as Olde Marco Inn. In 1922 Barron G. Collier (no relation to the other Colliers) purchased most of the island.
Unfortunately, the depression took its toll and development of the island was postponed until 1962.
It was at this time, when brothers Elliott, Robert and Frank Jr. Mackell developed a master plan for the island, after purchasing it from the Collier estate for the paltry sum of seven million dollars.
Not surprising, prior to its development in the mid-1960s, the population was a mere 550, as the only way to reach the island was by crossing a narrow, wooden, hand-operated swinging bridge. A trifle frightening!
Marco Island today has a permanent population of 15, 000 swelling to 35, 000 during the winter months.
Western entrance to the Everglades, and only 30 minutes away from world-class shopping, entertainment, fine dining and the cultural scene of affluent Naples, Marco Island offers plush accommodations to the discerning visitor. Additionally Marco Island offers some of the best Real Estate options in the World.  Call the Walter Team today to view this amazing piece of Paradise that you can call home!   239-821-0994