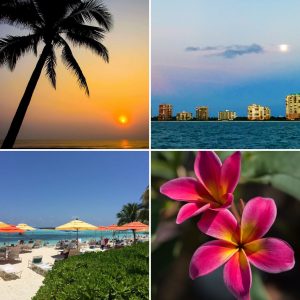 Whether you're taking a vacation to a tropical island this holiday break or you're just headed down the street to the ocean nearby, celebrating Thanksgiving at the beach can be a blast. However, if you're planning to celebrate Thanksgiving on the beach this year, there are a few things you need to keep in mind.
Take Turkey in Fun Directions 
It's Thanksgiving; of course you need turkey. But that doesn't mean that you need to lug a fully cooked 25-pounder down to the beach. Instead, consider turkey alternatives. For example, you could make gourmet turkey and stuffing paninis, Thanksgiving pizza or bite-size turkey h'orderves. This is a great opportunity to think outside the box.
A major factor in what type of turkey dishes you should bring depends on how many guests you'll be hosting, as well as the weather. Is a homemade turkey stew the best option or should you go with shredded turkey tacos?
Bring Plenty of Cocktails
Whether you want to stick to classic beach drinks like margaritas or seasonal variations like a frozen Cape Codder, cocktails are key for any beach festivity. Make sure you use your blender to prepare your drinks.
Try Ocean-inspried Side Dishes 
Don't just stick to the traditional mashed potatoes and green beans. Incorporate shrimp, scallops and other delicious seafood options into your turkey day side dishes.
Play Thanksgiving Games
It's Thanksgiving vacation, take the chance to play holiday games. Try your hand at some touch football on the sand or a version of corn hole where you toss cans of cranberry sauce.
CALL THE WALTER TEAM TODAY FOR YOUR PERFECT SPOT ON OR NEAR THE BEACH. PH# 239-821-0994